Welcome to all who love cockatiels.........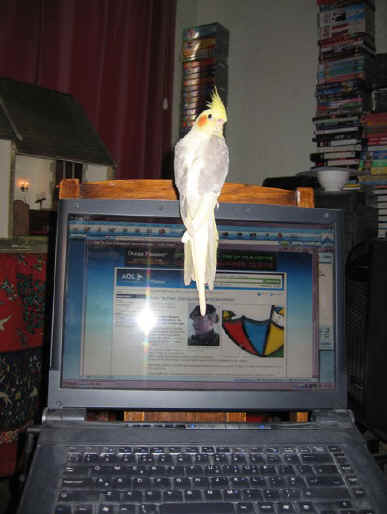 We invite you to share in our love of Pebbles, our hand reared young 'tiel who is really a person in feathers!
Pebbles is our second hand reared bird and he is just as wonderful as Cheeky, a hen 'tiel, our last "baby" who we also loved dearly.
However this site belongs to Pebbles quite rightly as he now completely dominates our lives. He arrived Saturday 10th March 2007 and has entertained us from that day with whistling, talking, shop alarms and.........well anything he fancies mimicking!
We had him for only three days when we suddenly realised he was clearly saying the word "pretty". In only those three days his "babble" of cockatiel-speak had turned into attempted speech as well as the tune, "Pop goes the weasel" that we began to whistle to him.
You can all see him here enjoying perching on the top of our laptop as we attempt to surf the net in our living room! He will happily chase the mouse curser on the screen and dance on the keyboard too if we let him!
Pebbles is already a star on www.youtube.com where we have uploaded numerous videos of him dancing, whistling, talking and generally performing.........in and outside of his cage. For those who want to see the full selection - our user name is "sarahdaviesprice".
See here a video taken from You Tube of Pebbles on his first outing and then compare that with the others on this site as he learnt to talk and mimic so amazingly well......
Of course Pebbles would have loved to have found time to build this site himself but we are sure that you can appreciate he is FAR too busy doing other things............
See below for pages about his various activities and talents.
View My Stats
[ Home ] [ Pebbles' Bath Time! ] [ Beak Banging! ] [ Links ] [ Pebbles and Charlie! ] [ Pebbles MAKES a cup of tea! ] [ Misdemeanours! ]

©Copyright Sarah and Andrew Price January 2008
Powered by WebRing.