Welcome to my "treasures or trash?" page.  I have been canvassing for items to include on this page and you can see the results below!  All those British visitors will be well aware of the BBC2 television program entitled "Room 101".  This is your opportunity to consign to the trash bin all those things that irritate or annoy you.  I will happily pass judgment on anything submitted and publish it on this page.
---
A Song for Murder?
You might have heard of the more usual "Song for Europe" but here we offer you a new and unique  service  "A song for murder"!
 Listen to these ruinations below if you dare!  These are the most recent releases from this "Priceless" pair! 
These are mp3 files of approximately 1.3 meg in size.
(WARNING: May cause offence to those who LIKE these songs so be warned!)
Email us with details of any song you would like to see "murdered" together with a midi file of said offending song, words and reasons and we will do our level best to "murder" it for you.  The result will be placed below for everyone to download.............if they dare.......!  
So far the comments have been  most encouraging.  Our efforts have been described by one customer as "exquisite agony" and a nephew who was unfortunate enough to hear one song told his brother (to whom it was sent for perusal)  that the song was "getting on his nerves!"  What a fine way to annoy those you hate too!  (brotherly love being what it is!) With no further a do here they are.............
I still call Australia home (mp3 file 1.07 meg)
Guten Abend
 Gute Nacht  (mp3 file 0.475 meg)
(guaranteed NOT to send you to sleep!) We like this song actually but "murdered" it in the name of practice.  (it is amazing how difficult it is to sing "out of tune"!!) With apologies to Brahms of course.
Walzin' Matilda
(mp3 file 1.07 meg-with apologies to the original song. Download to hear the ruination for yourself and........patriotic Aussies be warned..........you may not like it!)
---
THE most hated school lesson!

Physical Education is the most hated school lesson of our nephew, Ian.  I make no apology for including it because I hated it very much too.  I will never forget the agony of the time the games mistress literally forced me to to a forward roll over a bar of a ladder in the gym at school.  Of course she did not succeed and then accused me of "not trying"! 
  Yes Ian - I whole heartedly agree that PE is most definitely worthy of the trash bin!  I challenge all those out there to disagree.

Fortunately Ian has now left school and is no longer subject to such torture................
---

Practising piano scales has been submitted by a now ex-piano pupil of Andrew's, David. Whilst David is now no longer tortured by such things we include a java applet below for all budding pianists to practice their skills :-)
---
Crochet covered coat hangers have been submitted by our friend Lorna in South Australia.  I have to admit to some sympathy with you, Lorna, because I well remember these monstrosities being proffered to me and my family from friends and relations who were obviously hopelessly short of present ideas.  I have to say that it also brings to mind those scented drawer liners that are also given in the absence of anything more imaginative.  Look out for a java applet which will allow all those, including Lorna of course, to vent their anger on this object of loathing.  I therefore fully endorse this submission and have no hesitation in consigning it to the trash bin!
For Lorna and all those out there who also hate nylon covered crochet coat hangers I invite them to click this lovely example below and then destroy them with your mouse!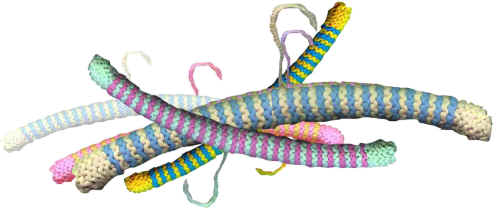 Top
---
An ex-piano pupil of Andrew's and ex-head chorister of Holy Trinity Choir, Coventry has asked me to consider his very reasonable choice "Mathematics lessons" to be included as a piece of questionable treasure.  I have to agree with David on this matter.  Agreed David.........after all..........is life REALLY dependent on such equations as "pythagorus squared" and other equations of torment offered to our long suffering school children and students.  I may, time permitting, add a mathematical torment puzzle here specially for David and all those out there who love maths with equal fervour (unfortunately I was hopeless at maths so don't hold your breath!)